On Monday Augusta, Melissa and I got together to prep some meals that we could put in the freezer. With a new baby (can I still say that? 15 weeks old but I still want to call him a newborn) it can be hard to get a real dinner together especially with Clint working crazy hours the past couple weeks. There are a lot of nights that we eat bagels or cereal or mac n cheese! Sounds gourmet huh?
So I gathered some of my regular recipes and found a few new ones to try out...because remember my post the other day about being a picky eater and deciding to try a new food adventure? Quick sidenote...well I have tried two new foods...nothing fancy but never the less, new!
Chicken Alfredo
Beef Enchilada
Back to the original story...I found some new recipes! So Augusta, Melissa, and I brought all our fixins (as Augusta says) to my kitchen and started prepping! We made some similar meals but we all had a few of our own too. So if we want to do this again we can share! I also got quite a few more recipes from someone from high school who is always posting about making freezer meals. Amber is really the one who got me started on this...so thanks Amber :)
I made 2 batches of lasagna, 2 batches of orange chicken, meatloaf, chili, baked penne, cilantro lime chicken, and pork chops.
I will share my recipes except lasagna because I just used what was on the box.
Baked Penne
(9x13 pan)
small jar of spaghetti or tomato sauce, 1 package of mozzarella cheese
(feel free to add in your own garlic, seasonings, etc)
1. Brown your beef or turkey
2. Cook pasta
3. Layer in pasta with meat sauce and cheese
Cook covered with foil at 350* for 45 minutes
Slow Cooker Orange Chicken
(makes about 4 servings)
1/3 c. flour, 1/2 tbsp. salt
1 tsp. balsamic vinegar, 4tbsp. brown sugar
3 tbsp. ketchup, 6 oz. frozen OJ concetrate
olive oil
In a bowl, mix the orange juice, brown sugar, vinegar, salt, and ketchup. Pour the flour in a small bowl.
Cover the chicken breast chunks in flour and shake off the excess. Pour a small amount of olive oil in a skillet and brown the flour-covered chicken. The chicken doesn't need to be fully cooked since it's going in the crock pot. After the chicken is done cooking, pour the pieces into the crock pot. Then cover the chicken with your sauce mixture and give the pot a stir. Store in gallon bag to freeze or cook on low for 5-6 hours or on high for 2-3. Serve over rice with veggies.


Meatloaf
not my picture...but it looks similar but without all the grease!
1 lb. beef or turkey, 1/2 c. bread crumbs
1 tsp. onion salt, 3/4 tsp. poultry seasoning
1 egg, 1/4 c. milk, splash of worcestershire sauce
Mix all the ingredients in a bowl. Mold in pan or on foil if freezing. Cook at 350* for 45-55 minutes.
Chili
2 lbs beef or turkey, 1-2 cans of hot beans
16 oz. tomato sauce, 1/2 onion chopped small
1/2 tsp. minced garlic, 2 tbsp. chili powder
1/2 tsp. pepper, 1/2 tsp. salt, 1 pkg. elbow macaroni or spaghetti
Brown the beef or turkey with the onion. Combine all ingredients except noodles into bag to freeze. Cook on low for 6-8 hours. Prepare noodles right before eating and add noodles to crock pot.
Crockpot Pork Chops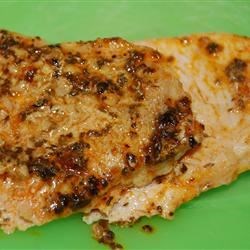 1/4 c. olive oil, 1 c. chicken broth, 1 tbsp. poultry seasoning
2 minced garlic cloves, 1 tbsp. paprika, 1 tbsp. garlic powder
1 tsp. dried oregano, 1 tsp. dried basil, 4 pork chops
Cut slits into pork chops. Combine all ingredients into bag to freeze. Cook on high for 4 hours.
Cilantro Lime Chicken
24 oz. jar salsa, juice from one lime
1/4 c. fresh, chopped cilantro, 1 pkg. taco seasoning
2 finely chopped jalapenos, 2-3 boneless chicken breast
Combine all ingredients into bag to freeze. Cook on low for 6 hours. Eat in tacos or with tortilla chips when finished!
To make all these meals took about 3 hours. However that includes feeding and changing the baby, checking on the baby a few times, spilling and then cleaning up chili, and chatting with friends. Over the course of 3+ hours Parker was a wonderful little boy! He was more wore out than I was afterwards!
If you try any of these, let me know how they go! Also share any good freezer meals you have!!